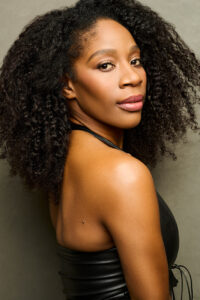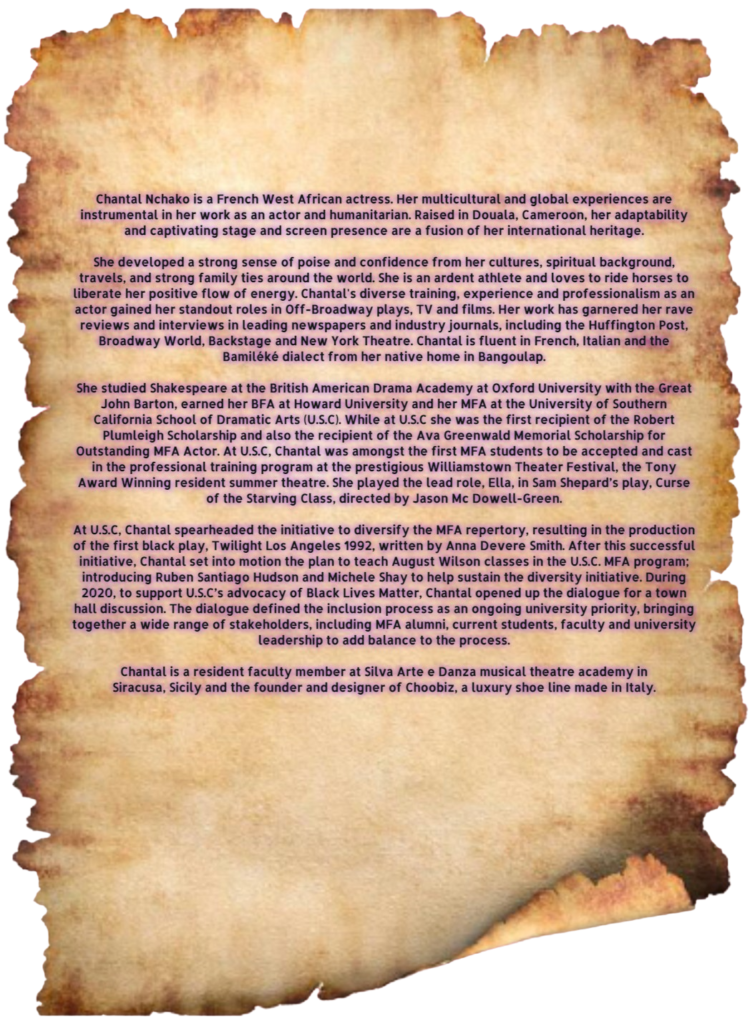 Chantal Nchako is a French West African actress. Her multicultural and global experiences are instrumental in her work as an actor and humanitarian. Raised in Douala, Cameroon, her adaptability and captivating stage and screen presence are a fusion of her international heritage.
She developed a strong sense of poise and confidence from her cultures, spiritual background, travels, and strong family ties around the world. She is an ardent athlete and loves to ride horses to Liberate her positive flow of energy. Chantal's diverse training, experience and professionalism as an actor gained her standout roles in Off-Broadway plays, TV and films. Her work has garnered her rave reviews and interviews in leading newspapers and industry journals, including the Huffington Post, Broadway World, Backstage and New York Theatre. Chantal is fluent in French, Italian and the Bamileke dialect from her native home in Bangoulap.
She studied Shakespeare at the British American Drama Academy at Oxford University with the Great John Barton, earned her BFA at Howard University and her MFA at the University of Southern California School of Dramatic Arts (U.S.C). While at U.S.C she was the first recipient of the Robert Plumleigh Scholarship and also the recipient of the Ava Greenwald Memorial Scholarship for Outstanding MFA Actor. At U.S.C. Chantal was amongst the first MFA students to be accepted and cast in the professional training program at the prestigious Williamstown Theater Festival, the Tony Award Winning resident summer theatre. She played the lead role, Ella, in Sam Shepard's play. Curse of the Starving Class, directed by Jason Mc Dowell-Green.
At U.S.C, Chantal spearheaded the initiative to diversify the MFA repertory, resulting in the production of the first black play, Twilight Los Angeles 1992. written by Anna Devere Smith. After this successful initiative, Chantal set into motion the plan to teach August Wilson classes in the U.S.C. MFA program: introducing Ruben Santiago Hudson and Michele Shay to help sustain the diversity initiative. During 2020, to support U.S.C's advocacy of Black Lives Matter, Chantal opened up the dialogue for a town hall discussion. The dialogue defined the inclusion process as an ongoing university priority, bringing together a wide range of stakeholders, including MFA alumni, current students, faculty and university leadership to add balance to the process.
Chantal is a resident faculty member at Silva Arte e Danza musical theatre academy in Siracusa, Sicily and the founder and designer of Choobiz, a luxury shoe line made in Italy.